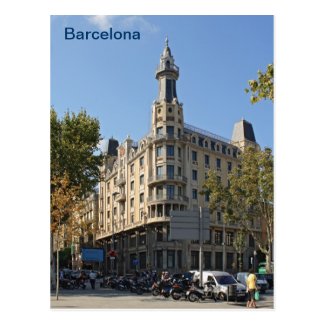 Postcard image from
Zazzle
May is turning out to be a busy month for me. I went to Barcelona for the first bank holiday weekend and had a fantastic time. We all enjoyed the beautiful buildings, the amazing food and the break from normal life.
At the moment I'm rushed off my feet organising a second-hand toy/clothing sale and a summer fair for my boys' school. Hopefully both will raise lots of money so we can buy laptops for the children.
Things are also busy on the family front. This weekend we're celebrating my Granny's 90th birthday and the weekend after that my in-law's Ruby wedding anniversary. It is great to see so many big milestones in the family. 
All this helps to explain why I haven't got any books to tell you about today and why I probably won't have many more for the rest of the month. The problem is compounded by the fact I'm craving long books at the moment. I'm currently immersed in the wonderful A Tale for the Time Being
 and want to complete A Suitable Boy
 soon. I may want to read a shorter book after that, but for the next week or two I predict a review shortage around here.
Have a wonderful weekend!